Appointments for Acupuncture/Consultation
You must make an appointment to see our staff for
an acupuncture service or a consultation session.
You may call our phone number (818) 998-6845 or use our
on-line appointment service (by clicking the button below)
to make your appointments.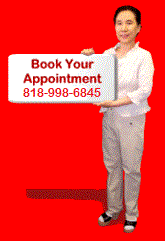 NOTE: There may be a $10 penalty for a missed appointment.