Acupuncture
Acupuncture is (often refers to acupuncture together with moxibustion) is a technique of inserting and manipulating fine filiform needles into specific points on the body with the aim of relieving pain and for therapeutic purposes.According to traditional Chinese medical theory, these acupuncture points lie along meridians along which qi, the vital energy, flows.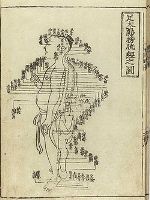 Acupuncture originated in China and is most commonly associated with traditional Chinese medicine (TCM). Different types of acupuncture (Classical Chinese, Japanese, Tibetan, Vietnamese and Korean acupuncture) are practiced and taught throughout the world. The body of evidence that show its effectiveness is growing.
Most modern acupuncturists use disposable stainless steel needles of fine diameter (0.007" to 0.020", 0.18 mm to 0.51 mm), sterilized with ethylene oxide or by autoclave. These needles are far smaller in diameter (and therefore less painful) than hypodermic injection needles since they do not have to be hollow for purposes of injection. The upper third of these needles is wound with a thicker wire (typically bronze), or covered in plastic, to stiffen the needle and provide a handle for the acupuncturist to grasp while inserting. The size and type of needle used, and the depth of insertion, depend on the acupuncture style being practised.
Warming an acupuncture point, typically by moxibustion (the burning of a combination of herbs, primarily mugwort), is a different treatment than acupuncture itself and is often, but not exclusively, used as a supplemental treatment. The Chinese term zhēn jǐu, commonly used to refer to acupuncture, comes from zhen meaning "needle", and jiu meaning "moxibustion". Moxibustion is used to varying degrees among current schools of oriental medicine. For example, one well-known technique is to insert the needle at the desired acupuncture point, attach dried moxa to the external end of an acupuncture needle, and then ignite it. The moxa will then smolder for several minutes (depending on the amount adhered to the needle) and conduct heat through the needle to the tissue surrounding the needle in the patient's body. Another common technique is to hold a large glowing stick of moxa over the needles. Moxa is also sometimes burned at the skin surface, usually by applying an ointment to the skin to protect from burns, though burning of the skin is general practice in China.
The American Academy of Medical Acupuncture (2004) states: "In the United States, acupuncture has its greatest success and acceptance in the treatment of musculoskeletal pain." They say that acupuncture may be considered as a complementary therapy for the conditions in the list below, noting: "Most of these indications are supported by textbooks or at least 1 journal article."
Abdominal distention/flatulence
Acute and chronic pain control
Allergic sinusitis
Anesthesia for high-risk patients or patients with previous adverse responses to anesthetics
Anorexia
Anxiety, fright, panic
Arthritis/arthrosis
Atypical chest pain
Bursitis, tendinitis, carpal tunnel syndrome
Certain functional gastrointestinal disorders (nausea and vomiting, esophageal spasm, hyperacidity, irritable bowel)
Cervical and lumbar spine syndromes
Constipation, diarrhea

Cough with contraindications for narcotics
Drug detoxification
Dysmenorrhea, pelvic pain
Frozen shoulder
Headache (migraine and tension-type), vertigo (Meniere disease), tinnitus
Idiopathic palpitations, sinus tachycardia
In fractures, assisting in pain control, edema, and enhancing healing process
Muscle spasms, tremors, tics, contractures
Neuralgias (trigeminal, herpes zoster, postherpetic pain, other)
Paresthesias
Persistent hiccups
Phantom pain

Plantar fasciitis
Post-traumatic and post-operative ileus
Selected dermatoses (urticaria, pruritus, eczema, psoriasis)
Sequelae of stroke syndrome (aphasia, hemiplegia)
Seventh nerve palsy
Severe hyperthermia
Sprains and contusions
Temporo-mandibular joint derangement, bruxism
Urinary incontinence, retention (neurogenic, spastic, adverse drug effect)
Weight Loss